When It Has To Be Perfect
Dry Cleaning & Laundry
We are a full service laundry and Dry Cleaner.  We do all our work in house to assure the highest quality with experience in the cleaning of all delicate garments such as silk, satin, cashmere, and rayon. We are not only cleaning to remove stains, but to preserve the garment for its full life.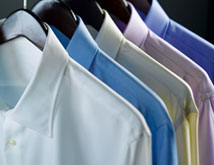 ---
Personal Laundry
We have the answer for the busy executive, mother, father or anyone who is tired of washing, waiting and folding clothes. Let Moore's Quality Cleaner's do your laundry for you.
Try our pick up and delivery service to save time.
---
Household Items
Curtains? Drapes? Carpets and rugs? No problem. If it's too large to clean, or you're just not sure how, our experienced staff will carefully clean any of your household items.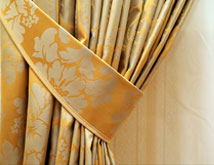 ---
Bridal Gowns
Our experienced staff will make sure that your wedding dress fits perfectly on your wedding day. We offer:
Alterations to ensure a perfect fit.
Refurbishments for older dresses.
Preparation on your wedding day.
Wedding dress preservation to save the memories from your special day.
---
Commercial Services
Restaurants, coffee shops, bed-and-breakfasts, and more. We do your laundry so you can focus on your customers. We will pick up bedding, towels, and table cloths, launder them to perfection, and return them to you to keep your business running smoothly.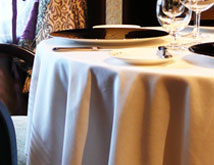 ---
Alterations
Our alteration specialist has thirty years of experience. Whether you're looking to fit into a vintage garment not quite your size, need to look and feel your best at a special event, or need something repaired, we can help.